416 QuikClamp (Copper Solder Joint)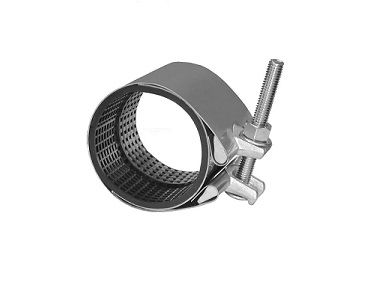 416 QuikClamp (Copper Solder Joint)
Have a leak at a copper solder joint? APAC's 416 QuikClamps is designed just for that. The first and original innovative design with a one piece NBR waffle step-gasket and unique lug that provides uniform gasket compression. Works on any type of copper, M, L or K. You can install it on tee's, couplings and on 45° and 90° elbows. In all, stop leaks without a shutdown using the 416 QuikClamp.
Specifications:
Panel: Type 304 Stainless Steel.


Lugs: Ductile Iron per ASTM A536 with galvanized finish.


Gasket: Exclusive one piece NBR waffle step-gasket.


Working Pressure: 175 PSI.


Temperature Range:  -40°F to +212°F.


Safe for drinking water.

Reference #:
1/2"            416-03-063
3/4"            416-03-088
1"               416-03-113
1-¼"          416-03-138
1-½"          416-03-163
2"               416-03-213
2-½"          416-03-263
3"               416-03-313
4"               416-03-413