412 QuikClamp (Full Circle Gasket)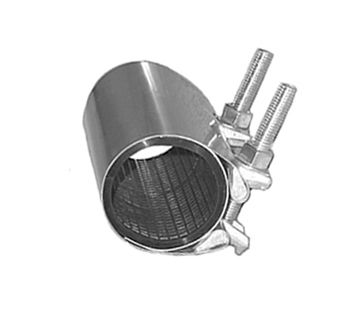 412 QuikClamp (Full Circle Gasket)
APAC's 412 series QuikClamp is Full Circle Clamp designed to offer maximum coverage. Its 360° gasket coverage wraps around the entire pipe insuring pinhole leaks or hole leaks of all type along with longitudinal and circumferential breaks are completely covered. Clamp widths of 3" and 6" are offered, larger sizes are available upon request.

* Please make sure you select the correct Pipe O.D. and Clamp Width.

Specifications:
Panel: Type 304 Stainless Steel per ATSM A240.
Gasket: Neoprene or NBR waffle gasket. (Suitable for water, steam, and oil.)
Temperature Range: -20°F to +212°F.

Bolts: Corrosion resistant Zinc Di-Chromate carriage bolts.
Lugs: Ductile iron per ASTM A536.